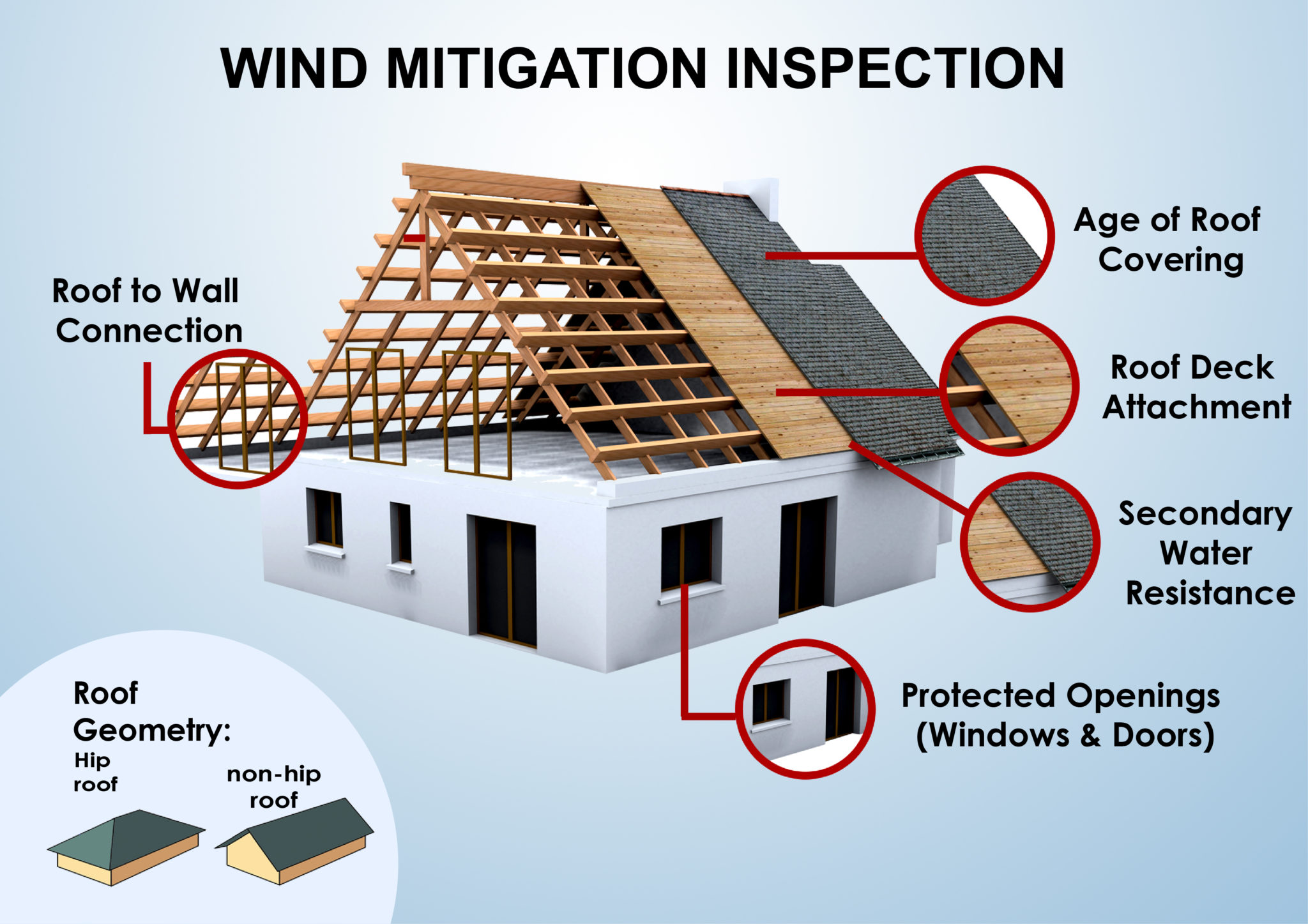 HOW TO SAVE MONEY WITH A WIND MITIGATION INSPECTION: WHAT IS WIND MITIGATION?
Wind Mitigation is the process of putting up various measures and appliances to effectively reduce the effect of strong winds and hurricanes on a building or a home. The process of wind mitigation may not completely prevent the occurrence of damage in case of such catastrophic events but it may lessen the damage incurred.
Many homeowners and real estate agents undertake to hire wind mitigation inspectors to survey their homes and buildings. These inspectors are then tasked with the obligation of bringing in credible reports on whether the structures can withstand any catastrophes.
Although hiring such inspectors may be costly at the onset their reports are reliable and this ensures that you save on repairing and rebuilding costs in the long run.
Here are some few reasons why wind mitigation should be considered a financial advantage:
1. WIND MITIGATION PROTECTS YOUR BIGGEST ASSET
For many people, homes may be one of their biggest assets. This is true especially for people who are highly involved with the real estate business, particularly those interested in selling houses.
It is therefore of utmost importance to strengthen such buildings or homes to prevent them from any future damage. This in turn translates into the incurrence of little or no costs when repairing damage that may have been caused.
2. HELPS YOU BAG INSURANCE DISCOUNTS EASILY
Evidence of wind mitigation inspection has enabled many homeowners to acquire premium insurance discounts and other beneficial credits among various insurance companies.
Some insurance companies may want you to show them the steps you have taken towards wind mitigation such as; installing a sturdy wall to roof foundation, shutter proof windows and hurricane proof garage doors.
These measures and steps may help you potentially get that insurance credit you have been eyeing.
3. INCREASES THE VALUE OF YOUR HOUSE
For those who may want to sell their houses fast and at a competitive rate, wind mitigation should be highly considered. Putting out a risk free house in the market automatically increases the value of your house.
There are many wind mitigation inspectors out there for example in St Louis Mo only there are about 150 companies dealing with the same, some even ran by veteran associations.
4. PREVENTS DOWNFALL IN CASE OF ECONOMIC RECESSION
It is common to have as an aftermath of catastrophic weather conditions. During the recession there is an astute lack of money. In order to ensure that you are not caught up in this quagmire, undertake to do the simple task of wind mitigation, it is a fine investment strategy.