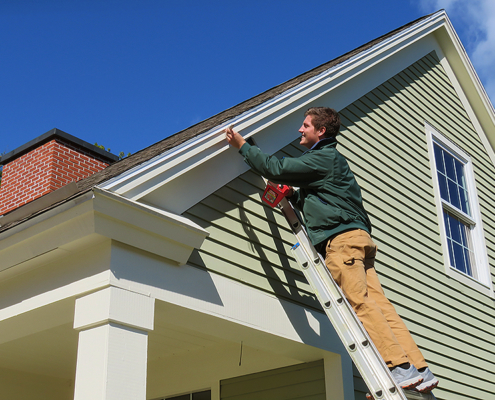 Top Tips for Items to Check Post-Hurricane
Hurricanes, severe storms, and other weather catastrophes are destructive and can cause chaos. During the hazardous weather, your number one priority is safety. When the worst is over, it's time to assess the damage and rebuild, if necessary. Here are five important things you should check as soon as you can.
1. Are there any threats to the safety of you and your family?
Have any power lines been downed on your property? Even if it looks "inactive," you must never move or touch a power line. The consequences can be deadly. If you smell gas inside your house, shut off all the gas valves because this could mean that you have a broken gas line. Call in the professionals right away.
Are your water lines still functioning, or have they been contaminated? If there is any doubt, make sure you have a supply of drinking water for you and your family while any lines or municipal systems are being fixed.
2. Do you have structural damage?
If your home has been damaged by the hurricane or storm, it is important to assess what needs to be fixed and to get on the repairs as soon as practicable. In many cases, addressing problems early on will prevent further damage and more expensive repairs down the line.
Foundation: Are there any cracked or bulging areas along the walls (indoor and outdoor), or do your doors now get stuck? Heavy water accumulation can cause damage to the foundation or wash out soil under the footings holding up your home.
Exterior and roof: Check the exterior siding of your home, gutters, and downspouts. Also, when it is safe to do so, look for any dents, holes (of any size), and broken shingles on your roof.
Doors, floors, ceilings, walls, and windows: It is pretty easy to notice broken windows, but the hurricane may have also damaged the interior of your home. Watch for damaged flooring and walls, warping doorframes, and even soaked carpeting.
Attic, basement, and crawlspaces: These spaces tend to have less traffic, but since they tend to be dark, they are excellent breeding grounds for mold, rot, and other water-related damage.
Outdoor structures: If you have a storage shed or detached garage, finding and fixing damage in a timely manner will save you time, money, and hassle in the future. Don't forget to inspect your fence in case you have a potential security issue.
It is important to realize that some of the damage may not yet be evident. Do your checks post-hurricane, but check again regularly so that you can identify anything that needs to be repaired. If repairs need to be made, it is better to call in a professional home inspector or another expert beforehand — to make sure all potential problems are addressed.
3. Has there been damage to the contents of your home?
Severe storms can also damage things that are inside the home. Apart from causing leaks, cracks, and broken windows, the hurricane could have wreaked havoc on the contents of your house in ways that may not be obvious to detect.
Indoor appliances: Water leaks and power surges that occur during or shortly after hazardous weather can cause serious damage to home appliances and systems, so you should make sure to check stoves, fridges, washers, dryers, dishwashers, and other appliances.
Electronics: Most people check to see if their televisions, stereo/sound systems, desktop computers, and other expensive electronics have suffered water damage, power surges, or contact with falling objects.
Personal belongings: Some clothing and furniture are easy to replace, but you may have heirlooms and other objects with huge sentimental value that sustain damage.
In the future, try to unplug whatever appliances and electronics you can before the storm hits, and outfit them with surge protectors and other preventative measures. You can also try to protect valuables by putting them in a safe or zippered plastic/waterproof bags.
4. What documentation do you have to support insurance claims?
Insurance companies will not be content to take your word when it comes to paying to repair damage or replace things. Gather all receipts and paid invoices for items as well as work you have had done to your home. Appraisals for special items or valuables may also prove helpful in the future. This documentation not only proves that you have lost what you have said you lost but also provides evidence of the monetary value of those losses.
Ideally, before the worst of the storm hit, you would have done your best to secure the documents — similar to how you kept your valuables safe. It may also be a good idea to take photos of items and valuables. Pictures may provide a secondary form of proof, especially if some of your documentation is damaged or lost.
As you make your rounds, photograph any damage you encounter — whether it is structural or item specific, large or seemingly small. Not only does this provide a timely record of the damage caused by the hurricane, but it can also provide insurance adjusters good references for comparing what your home and belongings looked like before and after the storm.
5. What does your insurance cover?
By the time the storm has done its damage, you are stuck with whatever provisions you agreed to on your insurance paperwork. If your coverage is comprehensive — and you have taken great care to specifically include particular items (such as heirlooms) — you can expect to be reimbursed for most or all of the damage caused. Sadly, for some people, it is after a catastrophe that they realize they are missing coverage. Get your insurance policy amended before the next one so you are not left in the lurch again.
Why should you bring in a professional home inspector?
After a severe weather event, a lot of the damage to the structure, exterior, and interior of your home may be easy to discern. In many cases, however, there may be indications or early warning signs of damage that is developing or will develop right under your nose. By the time an area is covered in mold, the damage from water is already much worse than it could have been if you had been able to identify it earlier on. That's why it is often recommended for you to call in a professional home inspector — so repair costs don't come down the road, and for your peace of mind.