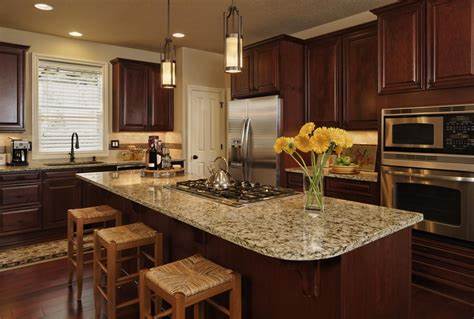 What Are the Latest Kitchen Countertop and Cabinet Upgrades?
When you're buying commercial property and intend to rent it out to tenants in the residential sector, you will want to ensure that it is in great condition and attractive from a marketing perspective. To do this, you need to pay close attention to several key areas, including the kitchen, which is often one of the busiest rooms in any home. So, with this in mind, do you need to modernize or modify any of the existing structures? In particular, what about those kitchen cabinets and countertops that may need an upgrade?
Create Focus with Your Countertops
A kitchen countertop is more than simply a workspace. It is often the focal point of the kitchen and can go a long way to influencing the atmosphere and mood in that room. In other words, it needs to be durable and practical but stylish too, and there are several new trends to consider as you plan your upgrade.
Integrate the Sink Design
Many designers and renovators today choose to make an integrated countertop and kitchen sink combination to create a seamless and sleek look. With such a modification, the sink becomes an integral part of the countertop and doesn't have the typical "overlap" around its periphery. If you choose this approach, you can select the size of the sink rather than letting it dictate the layout of the countertop.
Add a Waterfall
You may also want to feature a seamless design that does away with some of those traditional edges. Here, you'll extend the kitchen countertop so it appears to flow all the way to the floor rather than creating a sharp edge. This design can be striking and completely transform the kitchen's look when installed properly. In the trade, it's known as the "waterfall" look, and it can certainly add a degree of elegance to your upgrade.
Consider Quartz Stone
You'll also want to pay attention to the countertop material, and here, quartz stone is very popular and trendy today. It looks similar to granite that is made from engineered stone, albeit with a natural appearance. Quartz stone will be a high-quality addition to any kitchen and will be both durable and sturdy. Also, you won't need to worry about sealing and staining as you would if you chose natural stone. After all, the natural product can be porous, leading to some degradation over time.
Choose Polished Countertops
If you want your new kitchen countertops to look sleek, pay attention to your choice of finish. Polished kitchen countertops are great, but a matte finish can be equally as attractive, albeit with a smooth surface and low shine.
Add Some Sparkle
Finally, don't forget to blend your new kitchen countertop design with the rest of your kitchen decor. If you want to add some sparkle, consider speckled slabs as well.
Upgrading Your Cabinets
Turning to cabinets, how can you make your new kitchen as trendy as possible? After all, cabinets can take up a considerable amount of space in your kitchen and be another dominant design feature. Also, they will dictate how much storage you provide your tenants, giving them the freedom to organize their kitchen essentials as they want.
Integrate Glass Panels
Perhaps you can choose cabinetry with integrated glass panels to break up that wall of solid doors. Here, think about stained glass, as these are coming back into favor. They certainly add an element of style and elegance to the kitchen, and you'll be able to choose from a wide variety of designs.
Add Full Glass Doors
Alternatively, create the entire door out of glass instead so that people can see the contents without needing to open and close the cabinets. Of course, this type of approach is best if the contents of each cabinet are carefully stored. Perhaps this is a better solution for little-used cabinets, which can effectively become a display medium instead.
Focus on the Hardware
Turning from the doors to some of the hardware, consider upgrading the pulls and knobs. Sometimes, you may be able to keep the existing cabinets but just change out this hardware, which may make all the difference. In addition, you'll find an extensive range of pulls and knobs that can once again match the overall decor of the room, the countertop, the backsplash, or a combination.
Go Bold
In previous years, kitchen design trends may have been more neutral, whereas today, many people choose to go bold. So, you may want to make a statement with your cabinets by choosing some primary colors instead. Then, consider adding some punchy wallpaper, paint, or backsplash design to really make the kitchen a fun place to be.
Go Traditional
If you'd rather not be quite as contemporary as this, go for a traditional look. Choose cabinetry in painted wood, but add some knobs or handles with a vintage twist. If the kitchen's overall color is understated or subdued, it may attract some older clientele or those looking for a sanctuary at the end of a busy workday.
Choose Mixed Materials
Don't think that you need to choose one material or another when it comes to cabinetry. Many forward-thinking designers and renovators choose mixed materials in the kitchen and throughout the house. So, when you pick a cabinet made from a combination of metal and wood, you'll find that they are stylish, durable, and have a very distinctive look.
Get Help with Home Inspections
As you focus on upgrading your kitchen cabinets and countertops, you should also pay attention to the rest of your home. Make sure that the remainder of your property is in good condition, and bring in experts to help you with any inspection. If you are in central Florida, talk to the friendly team at Pro Inspect Solutions. We are home inspection experts and will prepare detailed, easy-to-read reports in as little as 24 hours.
Pro Inspect Solutions has an unmatched customer service policy, which places us among the 1% in the industry. We can perform a variety of services, including mold inspection, termite inspection, well water testing, wind mitigation, homeowners' checkups and full standard home inspections. And remember, we're in the business of providing peace of mind, so don't delay any longer — reach out to us today for help.