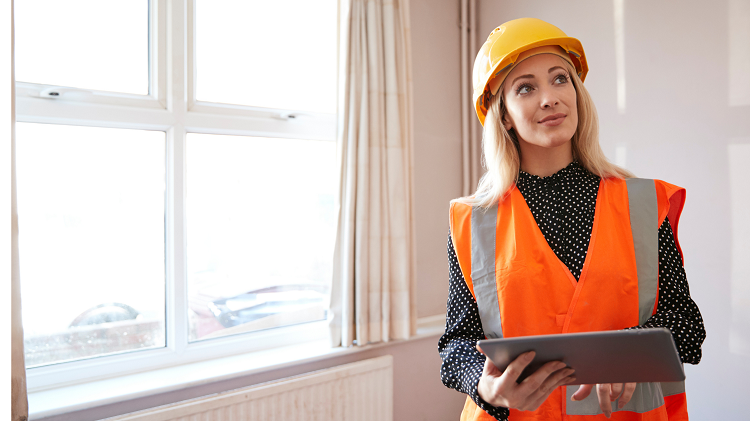 What's the Difference Between a Home Appraisal and a Home Inspection?
While they may sound like similar services, a home appraisal and home inspection have different functions and purposes. However, if you own a home or are planning to buy or sell a home, you will likely need to get both at some point. Here's what you need to know about home appraisals and home inspections.
What Is a Home Appraisal?
In the realm of real estate, a home appraisal is used to inform a buyer and their prospective mortgage lender on the value of a particular property. Although all the parties in a real estate transaction benefit from an accurate assessment of the value of a property, the appraisal tends to be set up for and by the lender. This is done so that the lender knows they won't lose money if there is a foreclosure in the future and can finalize the loan approval. This is especially true if the buyer's mortgage is going to be insured by the Federal Housing Administration.
Appraisers take into account a number of different factors, such as:
the home's neighborhood/location
the home's size, as well as the size of the lot itself
condition of the home, including structure
proximity to public facilities and well-reputed schools
quality of views
local crime rates
whether there is up and coming construction
prices of homes in the area that are currently listed for sale or that have been recently sold
What Is a Home Inspection?
While appraisers do look at the home's physical condition in assessing its value, home inspectors look more closely at it. The purpose of the inspection is not to determine a home's value but to identify any defects and potential problems that may be down the road and require repair. These potential problems may include:
damage from water and/or mold
building code violations
pest infestations
poor installation of plumbing, electrical, and other systems
cracks in the foundation
leaking from the roof
A home inspector will look at a home's exterior, structural integrity, systems, walls, floors, ceilings, roof, windows and doors, foundation, basement, crawl spaces, attic, insulation, porches, decks, yard, garage, and other things. They will assess how safe the home is. While a home inspection does not comment on how much a house and property are worth, the findings may impact the sale or negotiations. For example, if a home needs significant repairs, the buyer may request that the purchase price reflect the defects and the home maintenance the buyer would have to undertake.
It is prudent for a buyer to have a home inspection conducted before purchasing a home — just as it makes perfect sense to have an auto mechanic take a look at a pre-owned vehicle before you buy it. A home is a huge investment. So you want to be sure that you go in with open eyes.
In most cases, the buyer wants a home inspection done to make sure they are aware of any potential, expensive problems. However, someone listing — or planning to list — their home for sale may also want to have a home inspection done to either have repairs done before the sale or anticipate prospective buyers' bargaining position.
Note that home inspections are not the same as city or municipal inspections, which focus on whether a home complies with building and local housing codes.
Similarities and Differences Between Home Appraisals and Home Inspections
Home appraisals and home inspections both:
entail a third-party, non-biased professional attending at the home and analyzing the condition of the house;
require the seller to provide the professional permission to enter the property for that purpose
occur before the sale of a property
often appear as subjects on a purchase/sales contract of a home
tend to mainly benefit the home buyer during the property closing
usually result in a detailed investigation report with findings and analysis, presenting the professional's assessment of the condition, integrity, and functionality of the home and property
Both services affect the parties' negotiating power and can affect financing as well as whether the deal will go through at all.
Differences between home appraisals and home inspections include the following.
A home appraisal is about the home's value but doesn't really speak to what kind of repairs will need to be done. A home inspection is about a home's condition and safety but does not provide an opinion about how much the home and property are worth.
An appraiser looks at the home in the context of the neighborhood and the value of other, similar homes. A home inspector focuses on one particular property.
An appraiser essentially does a "walkthrough." A home inspector conducts a more extensive investigation of the home and property.
A buyer will typically seek a home inspection. Home appraisals are usually a requirement of the mortgage lender.
Should You Get a Home Appraisal or Home Inspection?
If you are the buyer, the chances are that you will not want to rely solely on the seller's (or real estate agent's) work. Instead, you may want to get a complete picture of the home and property for your peace of mind. In many cases, it is best to get both. Ideally, you would have a home inspection done before signing the Agreement and Purchase of Sale documents. Alternatively, you could ask for a contingency clause so that the transaction is partly contingent upon certain findings from a home inspection.
If you are getting a mortgage, the lender will likely set the appraisal process in motion, so you won't have to worry about finding an appraiser. However, a home inspection will probably be your responsibility to set up. Again, you may be able to get suggestions from the realtor. Outside of Central Florida, you can look to the American Society of Home Inspectors or the National Association of Home Inspectors, which requires member home inspectors to meet specific standards. Both organizations have an online search function on their websites, allowing you to search by geography.
In Central Florida, Pro Inspection Solutions is your solution if you need a timely home inspection by a certified home inspector that meets our rigorous quality standards. For tips and advice on what home inspection is best for your needs, ask an inspector at Pro Inspection Services. Then, contact us today with your questions or to book a home inspection.