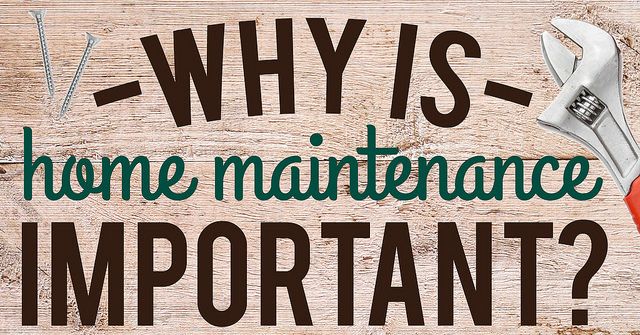 Why Home Maintenance Is Important
It is rather easy to spot a home that has been well maintained versus one that has just been left sitting neglected. Properly taking care of your home may spark a potential buyer's interest, showing that the home is worth what you are asking for it. This is one of the many benefits of home maintenance.
Improve the Longevity of Your Home
Don't allow your home to fall apart little by little. Make it last longer by performing regular home maintenance wherever it is needed. Don't let something that started out as a minor repair turn into something that is now a major repair.
Unfortunately, appliances and other household elements are not designed to last a lifetime. Making incremental investments in your home when the need arises extends the longevity of the home as a whole. Although major repairs are still likely to arise in due time, performing scheduled maintenance places you one step ahead of the game.
Save Yourself Money Long-Term
You may be wondering how spending money regularly on home maintenance can actually end up saving you money. When you perform regular maintenance on an appliance in your home, you are reducing the chance that there will be a major repair.
Even though you did have to spend money on maintaining the appliance, the money you will have saved yourself on a major repair is exponentially more. This is particularly true if you have to hire a professional to take care of the situation for you.
It is much like giving your car an oil change when it is needed. If you choose not to ever change the oil in your vehicle, you may end up destroying your engine, therefore rendering it worthless.
Equipment that is old and inefficient also has a way of sucking up energy dollars right out of your wallet. Regularly changing the air filters in your HVAC system will help save some money. Replacing old pipes may not seem like much fun, but doing so may save your home and wallet.
Increase the Resale Value of Your Home
Yes, having your home completely renovated can really boost your home's resale value. However, no amount of cosmetic surgery on its looks can replace poor maintenance on aspects such as plumbing, HVAC, and roofing, for example.
When your home inspector is able to confirm that the home has been properly maintained and can positively check off all of the boxes, so to speak, the resale value of your home is automatically boosted.
On the other hand, when it is obvious that regular maintenance has been neglected on a home, the buyer often asks for a discount on the price of the house in order to factor in what it will cost them to repair the items in question.
Improve Your Overall Living Experience
Whatever home maintenance issues you have had to take care of, they may have happened out of absolute necessity. A creaky door may annoy you enough for you to take care of it eventually, but a leaky roof above your head will make you stand up and take action. In either case, proper home maintenance will make your home more livable.
The bottom line is that you just can't put a price on peace of mind. Knowing that you have done your best to make sure everything in your home is in proper working order should help you to feel safe, secure, and confident about living there.
What Is Considered Home Maintenance?
Part of keeping your home maintained is making sure that everything physically looks good. For instance, putting a fresh coat of paint in a carefully selected color scheme can do wonders for updating the interior of your home.
Making sure that your home is keeping up with the Joneses in the curb appeal department is also very important. The exterior of your home should be clean and neat, and the landscaping should always be tended to. Gutters should be kept cleared out so that rainwater doesn't puddle and create problem areas.
Home maintenance goes deeper than simple cosmetic upgrades. Leaks and cracks in your walls and roofing not only look bad, but they can point to a bigger problem.
HVAC systems must have the air filters changed monthly and checked to make sure they are working optimally as needed.
Pipes and plumbing fixtures wear out over time. Replacing them when they begin to look old can potentially save big plumbing problems that might arise later.
Outdated or mismatched appliances do nothing to raise the value of your home. If it is in your budget, opt for new, energy-saving models that will boost your bottom line while saving you on your power bill.
Keeping your smoke detectors in working order may save your life one day.
Windows and doors need to stay in proper working order. This might mean replacing, and at other times simply stopping a squeak.
What good is a home that has a roof that is failing or leaking? Be sure to stay one step ahead of the game when it comes to the roof over your head.
Don't let pests move into your humble abode. If bugs become a problem, have a professional take care of the situation right away.
Our Industry Is Home Inspection
Perhaps you are in the market to purchase a home and you want to be sure that it has been properly maintained by its previous owners. The only way to ensure they know about home maintenance importance is to receive a professional home inspection with a name that you can trust.
Pro Inspect Solutions provides you with a thorough report at a time that is convenient for you. Allow us to check every aspect of your potential home to ensure that when you make your purchase, you do so with the utmost confidence. Contact Pro Inspect Solutions today and have faith that we will give you the tools that you need to make an educated decision about your future.